The Philosophy of Aesthetic Realism, which I am so proud to study and teach, has taught me—and enabled me to teach others—the most valuable things I know about music and life. That's what this website is about. It includes papers on the flute, education, love, marriage, and economics.
I began my study of this important philosophy directly with Eli Siegel (1902-1978), the great educator, poet, and critic who founded it. I loved the classes he gave. They included the Ethical Study Conference, the Arts and Sciences lectures, the Nevertheless Poetry Class.
And I continue now to study in the classes taught by Ellen Reiss, the Chairman of Education at the Aesthetic Realism Foundation, whom Mr. Siegel appointed in 1977. In Ms. Reiss is a scholarship and integrity I respect enormously—and I see her as the most important educator living today.
As I give flute classes, as I teach women in the Aesthetic Realism and Marriage class, as I teach children in afterschool programs across the city, and teach New York teachers in professional training classes, I am so glad to convey the knowledge that has made my life happy.
Though I am from the midwest myself, I represent all humanity. Aesthetic Realism meets the honest hopes of people not only in the United States, but Japan, England, Canada, Europe, the Pacific Islands.
— Barbara Allen, Aesthetic Realism Consultant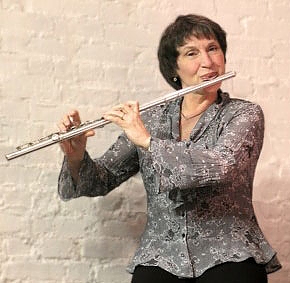 CONTENTS | ABOUT AESTHETIC REALISM | ECONOMICS | MARRIAGE | TEACHING | MUSIC | FLUTE LESSONS
THE FLUTE 1 | THE FLUTE 2 | THE FLUTE 3 | AESTHETIC REALISM FACULTY | THEATRE COMPANY